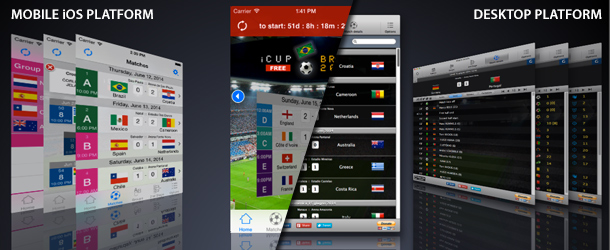 iCup 2016 Edition: the UEFA Euro Cup manager !

Matches schedule, groups data, second stage table and detailed information about scorers, events, statistics and formations of every match with an on-line update system that get real-time data during matches time.


| | |
| --- | --- |
| Mobile version | Desktop version |


Available for both mobile and desktop platforms in about 30 languages.
Latest news
7 june 2016
Version 1.1 available for all supported platforms.
AppStore (Mac and iOS) versions are under Apple review and will appears shortly into the store.
- added Norwegian and updated Bulgarian and Swedish languages
- added official team players and coaches
- added language selection at first launch
- small bug fix
8 march 2016
Linux version ready for download ;-)
Read
installation details and notes for 64bit system here
.
27 feb 2016
Version 1.0 for iOS and Desktop is ready to download ;-)
Linux version will be available soon.
12 jan 2016
All version of the app for 2016 UEFA are almost ready. Download links will appears shortly!
1 jan 2016
Follow us and
write something
into your preferred social pages.
You can olso try to get FREE redeem codes for Apple AppStore.
Facebook
|
Twitter
|
Google+
.